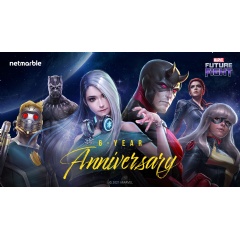 Netmarble's popular mobile game MARVEL Future Fight is gearing up to celebrate its sixth anniversary in April. To honor the game's six years of Super Hero adventures, Netmarble is opening up pre-registrations for a special anniversary event that starts today, where participating Agents will be eligible to receive a variety of high-value rewards

From April 9 – 29, players can enter their email address on the web page HERE to pre-register for MARVEL Future Fight's six-year anniversary. Netmarble has substantially increased pre-registration rewards this year, as players have two avenues of collecting high-value rewards. Those who pre-register can receive items such 600 Crystals, 1x Selector: Tier 2 Character, and 1.5M Gold.

MARVEL Future Fight is also having a Sixth Anniversary Countdown Event that lets players collect several different rewards by checking in. Players who check into MARVEL Future Fight every day during the Countdown will receive rewards including below:
D-25 ~ D-19: Selector: 6★ Character, Tier-2 Mega Advancement Ticket and 200 Crystals
D-18 ~ D-12: Selector: 6★ Mutant Character and Tier-2 Mega Advancement Ticket
D-11 ~ D-5: Tier-3 Growth Materials, a Mythic Comic Card and 400 Crystals
D-4 ~ D-2: Level 4~6 Potential Enhancement Tickets
D-1: Odin's Blessing Chest
On the day of the sixth anniversary, players will achieve Selector: Tier-3 Character and a special Sixth Anniversary Comic Card.

MARVEL Future Fight will its sixth anniversary this month with over 120 million players across the world. The game is currently available worldwide in the App Store® and Google Play™.

For more information, please visit http://marvelfuturefight.netmarble.com.