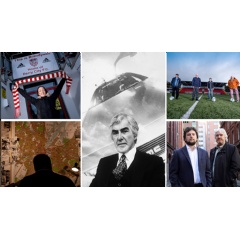 "These are stories which have global appeal but are unique to this place." — Eddie Doyle
The Once Upon A Time In Northern Ireland season sees a range of top filmmakers go back through the recent decades to put a new lens on some good, bad and ugly moments from Northern Ireland's past.
From one of the biggest cash robberies in the UK to a football team reimagined, and from the man who built the car of the future, to the horrific events around the boys who disappeared from the streets of Belfast in the 1970s, these documentary films delve into their subject matter like never before to bring audiences a new perspective and understanding of what happened.
The films will be broadcast on BBC One Northern Ireland and on BBC iPlayer after broadcast accompanied by a selection of popular documentaries from BBC Northern Ireland's archive including some favourite True North films.
Eddie Doyle, Head of Content Commissioning, BBC NI says: "We are excited to bring this new season of documentary films this Spring, showcasing some of the most intriguing stories told by some of the best film storytellers around. The football team that brought hope to a city, the man who built the Back to the Future car, the heist which saw £26.5 million taken from the vaults of the Northern Bank and the sad tale of boys who disappeared on the streets of Belfast without a trace. These are stories which have global appeal but are unique to this place."
Accompanying these films will be another chance to view some gems from Northern Ireland's archive on BBC iPlayer in the Once Upon A Time in Northern Ireland section in the Northern Ireland category from Monday 19 April. These include:
Bullseye Belles – documentary told through the lives of female dart players taking a hard look at inner city Belfast
George Best: All By Himself – feature length documentary of the football prodigy who became a global superstar
Love and Death in City Hall – the story of the biggest things in life at Belfast's City Hall
Project Children – the story of vulnerable children travelling to America for a summer of peace
Another Day – a True North film which revisits families in Belfast 20 years on from the Ceasefire
The Miraculous Tales of Mickey McGuigan – The first ever True North which examines the traditional worlds of folklore and magic
MD
Different League: The Derry City Story
The season starts on Monday 19 April on BBC One Northern Ireland at 9pm with Different League: The Derry City Story. This is the feel-good story of a community that needed to catch a break and how its football club Derry City FC, exiled from senior football for more than a decade, was brought back from the dead.
After decades of feeling estranged from the establishment, four former players took on the football powers to change the city, and the club, forever. Achieving their goal in a peaceful revolution, the city unleashed a carnival of hope, pride and optimism on a scale that will never be forgotten. With international dispensation from FIFA, the gang of four crossed borders to set about bringing hope, cups and medals, international superstars and Sven Goran Eriksson back to the Brandywell. It has been made for the BBC by Guy King of State of Grace Films and Stray Bear Films.
DeLorean: Back from the Future
The two-part series DeLorean: Back from the Future starts at 9pm on Monday 26 April. John DeLorean's extraordinary and doomed attempt to build the sports car of the future in 1980s Northern Ireland is the stuff of legend. A buccaneering American entrepreneur he had film star looks, a famous fashion model wife and an enormous ego which drove him to rival the US giants of the car industry.
A co-commission with BBC Two and Netflix, this new two-part series of hour-long films has been specially made for BBC NI using rare and unseen footage filmed by Oscar-winning directors DA Pennebaker and Chris Hegedus, and through news archive documenting his life and career. This is part documentary and part psychological profile of DeLorean, a man who rose from the ghettos of Detroit to build his American dream in Belfast. A dream that quickly went up in smoke. The series, by Fired Up Films, will be broadcast over two consecutive nights, with the second part being broadcast on Tuesday 27 April, BBC One Northern Ireland at 10.45pm. It was broadcast as a 90-minute film on BBC Two earlier this year.
Heist: The Northern Bank Robbery
The third film, on Monday 3 May at 9pm, tells the story of what was the biggest heist in British history – just four days before Christmas, in December 2004 when the Northern Bank in Belfast was robbed. In a sophisticated operation the gang took two families hostage for 24 hours, forcing two bank employees to rob £26.5M from the cash centre. Suspicion immediately fell on the Provisional IRA and a political storm ensued which threatened to derail a fragile peace process. Sixteen years on, despite an unprecedented police investigation, it remains unsolved.
In this BBC NI production, two of Northern Ireland's leading journalists – Darragh McIntyre and Sam McBride – come together to shed new light on one of the most notorious cases in UK-Irish criminal history. With exclusive access to new source material including internal bank CCTV, police 999 calls and court documents – they piece together what could have happened. Through interviews with key players – in politics, policing and financial crime – they uncover what happened to main suspects in the cross-border police investigation and ask whether the robbery inadvertently, may have helped the peace process.
GONE: The Lost Boys of Belfast
In November 1974, as civil unrest took hold in Northern Ireland, two young boys disappeared off a busy road in Belfast on their way to school. They were never seen again. What is unique about these disappearances is the apparent lack of coverage they received, both at the time and since. Thomas Spence (11) and John Rodgers (13) were ostensibly forgotten by the public almost as quickly as they vanished as it appeared a news cycle and a police force caught up in a de facto civil war had no time to investigate missing children.
In a new documentary for BBC Northern Ireland, filmmaker Des Henderson attempts to find answers to a decades-old cold case mystery. With the help of criminologist Robert Giles, journalist Martin Dillon and investigative reporter Chris Moore, the team discover that the truth may be more horrifying than anyone had initially thought. Made for the BBC by Alleycats TV, GONE: The Lost Boys of Belfast will be broadcast on BBC One NI on Sunday 9 May at 10.30pm.